1.2013 Intelligent Light Sensor Time Controlled dimmer wireless ir remote controller 
2.Voltage: DC5V/12V/24V 
3.0utput :4A*3CH
2013 Intelligent Light Sensor Time Controlled dimmer wireless ir remote controller
Product Description:
The controller is adopted 8 digital tube to show the modes of time and work. It adopts PWM dimmer electric.It matches the precise clock clip which can control the brightness and darkness of the light according to the time .When present time is same as the predicted time , the light will change as previous brightness. You can set 5 scenes during the 24 hours one day. By optional sensor, the controller can autocatalytically adjust the brightness fo the light according to the brightness and darkness of the environment optical line.The controller can be used for the normal one.The controller works through the infrared remote controller, and operate easily.
Technical Parameters:
1.Supply voltage:DC12~24V
2.Output:3 circuit
3.Output current:4A/ch
4.controller size:L122xW71×H25mm
5.package size:L135×W80×H55mm
6.Net weight:180g
7.Gross weight:210g
8.Static consumption:<0.24W
9.Output power:12V≤144W;24V≤288W
10.PWM signal class:256 level
11.PWM signal frequency:325HZ
12.Remote Control distance:>10M
13.Time deviation:<5 seconds per month
External Dimension:
Interface Specification: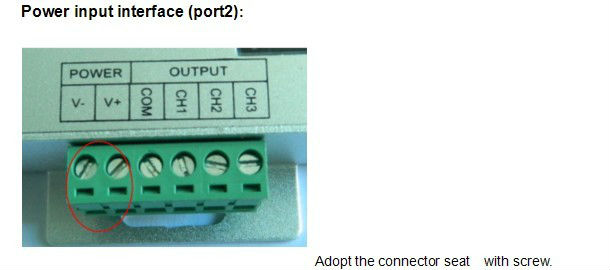 Load output interface: 
Typical Application:
This controlled is used to controlled the single color strip,can connect 3 pieces single in parallel, its DC12-24V , 4A/CH, "COM" is the Common +,CH1/CH2/CH3 is three - Port.
Direction for use :
 Time Set:
Time Control Functions:
Time control function is similar with the clock function. When the time of the present,and set time are the same, the controller will change the brightness as you set. When cut off the power, this data will not be lost.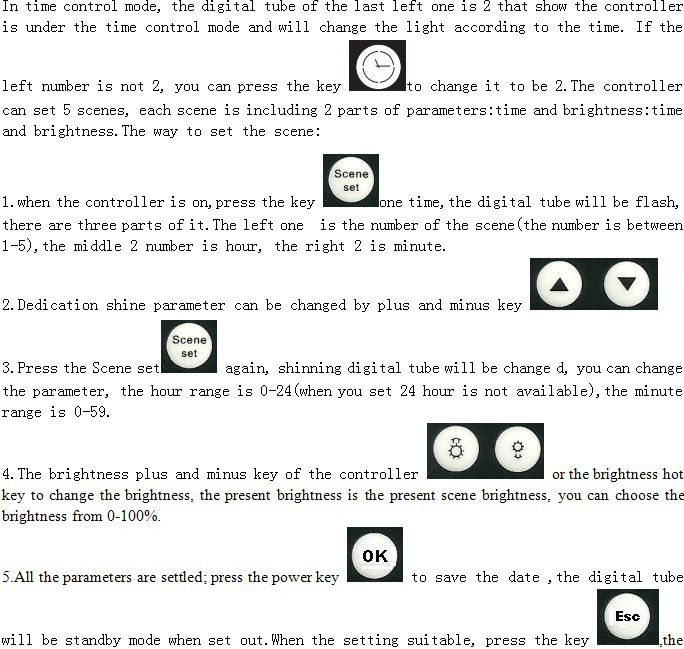 parameter will recover the parameters.
Light Controlled Function:

The environment optical line is dark the light will be bright, when the environment optical line is bright will be dark. When the controller leave the factory you can optical line sensitivity of the induce.

The environment of high light intensity fluctuations, in order to prevent the light change its brightness with the light fluctuations, we had set 5 minutes for the light sensor adapt time, it means that when testing the light sensor function, the effect will not be seen until 5 minutes.
Brightness Adjust Functions:
When the controller is on, press the brightness hot key on the controller to enter the light adjust mode. When the first number fo the digital tube is 0 that is the controller can change the light according to settled brightness.
With power off memory function. When re-connect to the power supply, it will be the statue that you set before cutting the power supply supply automatically.
Cautions:
1.This products Input voltage is DC12V-24V,other input voltage are not allowed.
2.Lead wire should be connected correctly,according to the wire color and the connecting diagram offers.
3.Overload are prohibited.
CE Certification: